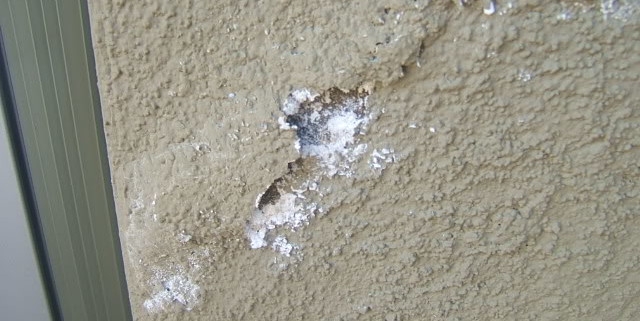 Florida's billion-dollar stucco problem
HILLSBOROUGH COUNTY, Florida— Your home is your most expensive investment. But it may also be rotting away – and losing value – faster than you could ever imagine.
Most Florida homes are covered in stucco, which is basically a layer of cement designed to seal your home from moisture. But when stucco is applied too quickly, it can lead to cracking, which can then allow water in. Most Florida homes are also at least partially built with wood, which can rot and mold when moisture is allowed in.
By the time homeowners notice the significant cracking or buckling of their stucco, the damage is often done, with fixes costing as much as $100,000.
Tampa Bay's most memorable stucco failures in recent years came from the Willowbrook Townhomes in Lakewood Ranch. Dozens of condos in the KB Home community, which were sold to homeowners between 2005 and 2008, had massive water intrusion problems that led to collapsed balconies, crumbling walls, and widespread mold.
It took significant TV exposure, years of legal battles, and tens of millions of dollars worth of fixes, but Willowbrook homeowners finally got most of their problems repaired. KB Home ultimately acknowledged the shoddy work in court documents, but sued its subcontractors, blaming them for the defects. Home-builder Taylor Morrison has also acknowledged major stucco defects in legal proceedings.
Yet dozens of other communities around Tampa Bay continue to fight with home-builders over similar stucco problems. None of the builders contacted by 10 Investigates would comment on statewide stucco problems.
Experts say stucco can be done right, or it can be done quickly. And when builders are trying to put homes up as fast – or as cheap – as possible, they often choose the latter. Bad stucco installation can still occur today, but was especially prevalent during Florida's big building boom (circa 2005-2010) when it was considered an afterthought by many builders.
"It appears that often the stucco installation was not directly-supervised and controlled by a licensed contractor," said professional engineer Thomas Miller with Structural Engineering and Inspections, Inc. "(Homebuilders) were relying on the subcontractors to install (stucco) without the supervision."
Although stucco installation is not a licensed profession in Florida, all aspects of home-building are to reflect Florida's building code. Miller, who is also an officer with the Florida Lath and Plaster Bureau, says ensuring quality of the work is the responsibility of the general contractor assigned by the home-builder.
Because all building materials expand and contract – especially in a hot, humid environment like Florida – proper care needs to be used when installing stucco, a cement-like material layered on like paint. But when proper expansion joints and procedures aren't used, stucco will expand at different rates than the wood underneath it, leading to cracking.
On Florida's West Coast, wood frames are typically constructed on the second floor of a townhome, over a first cement/cinder block floor. On Florida's East Coast, damage can be more significant, where entire homes were frequently built with wood frames.
Sometimes, simple cracks can be corrected with simple maintenance, including painting. But recurring cracks or large cracks may be a sign of bigger problems and could let more water inside than you may realize.Cracking is also common when stucco is installed too quickly, too thinly, or without proper training. Cracks are especially common where stucco wasn't properly installed around windows, vents, or other seams.
Most leak-related rot is not as obvious as it was at Willowbrook. Instead, rotting wood often develops slowly under the surface of the stucco, sometimes for five to 10 years before deterioration is visible – way too quickly for homeowners who expect their homes to outlive the life of their 30-year mortgages – yet sometimes too slowly for homeowners who hope to hold home-builders accountable.
Compounding the problem is that most home-buyers sign away their right to sue home-builders when they buy their home. Most home-builders require customers to sign a contractthat requires arbitration – not a lawsuit – to settle any dispute over defects.
Arbitration typically helps builders reduce their costs at the expense of the homeowner. And because arbitration is held behind closed doors, neighbors with similar problems are never privy to any precedent or admission of guilt that may come from the hearing.
Additionally, Florida's statute of limitations on construction is only four years, while the statute of repose – your last chance to make a claim over defects – is only 10 years. So even if your stucco cracks after just a few years and the wood spends the next five years slowly rotting, you are left with a very limited time to make a legal claim.
Homeowners across Florida who bought 2005 townhomes are now discovering years-old problems that are too old to make any legal claim on. Time is also running out for the owners of 2006- and 2007-built homes if any building defects have led to damage.
"Time is of the essence to have someone who knows what they're looking at evaluate your home," said Miller.
In addition to physical problems, stucco failure can create headaches for homeowners who wish to sell their property. It's illegal not to disclose any defects in the home, which can significantly reduce property values. Home-buyers should seek a thorough inspection before purchasing a home with stucco.
Where were the investigators?
Because stucco installation does not require a license, most building departments were not inspecting its quality for many years. However, as problems continue to mount, more local agencies are improving their inspections.
Florida's Attorney General Pam Bondi has also had an open investigation into KB Home's building practices, but after more than two years of investigating, the case remains "open."
KB Home's Willowbrook complex required tens of millions of dollars in repairs over several years.   (Photo: Paul Thorson)
"We continue to aggressively investigate this matter and as our investigation is ongoing, it would not be appropriate to discuss the details at this time," said Attorney General spokesperson Whitney Ray. "While we are not in a position to comment on the existence of similar investigations, if any one believes they have been the victim of any unfair and deceptive trade practices similar to those alleged in the our KB Homes investigation, we would be interested in hearing from them. Homeowners can contact our office at (866) 9NO-SCAM or visit myfloridalegal.com."
Representatives from KB Home, Pulte Homes, and Lennar Homes all declined interviews for this story.
But in part 2 of this report, 10 Investigates will delve deeper into how the state's biggest homebuilders were able to build so many homes with such little supervision. Watch it Thursday night at 11 p.m. on 10 News.
https://guardianhomeconsultants.com/wp-content/uploads/2015/05/DSCF1649.jpg
480
640
giftedowl
https://guardianhomeconsultants.com/wp-content/uploads/2020/06/guardian-logo-e1592961674470-300x236.png
giftedowl
2016-07-21 17:18:06
2016-07-22 15:43:23
Florida's billion-dollar stucco problem