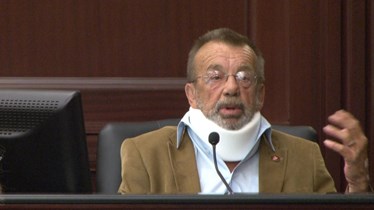 Drug Court judge testifies in condo defect lawsuit
The plaintiffs rested Wednesday in a landmark construction defect trial against America's largest builder. The Heron's Landing community on Beach Boulevard is suing builder DR Horton, claiming the condos are riddled with construction defects and violate Florida building code.
DR Horton disputes the claim. They say any problems are isolated, and the buildings are fine.
One of the final witnesses for Heron's Landing was a man who typically presides over Duval County courtrooms: Magistrate John Sampson runs both Veterans Treatment Court and its Adult Drug Court.
Sampson testified that he bought a condo at Heron's Landing in 2011, planning to retire there. He said his retirement plans suffered a setback when he learned about costly construction defects in the condo community – including failing roofs and stucco.
Sampson, who also serves as President of the Heron's Landing Condo Association Board, said the community was forced to reach out to an independent structural engineer for help, because DR Horton downplayed the severity of the problems.
"The more we discovered the more there was," Sampson told the jury. "It just kept growing and growing. So we really needed his expertise to get a handle on this cancer that was spreading through the complex."
Sampson joins a parade of witnesses who have attested to a range of construction defects at the 240-unit development. Residents have testified about poor soundproofing, inadequate drainage, air conditioning failures, broken plumbing, even garage doors falling off.
The company notes the buildings passed inspection and were certified by the city of Jacksonville.
The lawsuit, filed in 2013, is unusual because construction defect claims are typically handled in secret arbitration proceedings. Virtually every new home contract prohibits owners from suing in open court, and instead forces them into a closed hearing with the builder. Because this case was filed not by individual condo owners, but by the condo association, the claim is freed from those limitations.
Residents are asking for $9 million to repair the condos.
Attorneys for D.R. Horton declined to discuss the case. A spokesperson from the company's Texas headquarters said it is company policy to handle all media inquiries in writing, but they issued the following statement: D.R. Horton is committed to superior customer service and providing families with quality homes and neighborhoods in North Florida. While we do not believe the community has the construction defects alleged in the lawsuit, D.R. Horton intends to fully cooperate with the legal process.
The lengthy and complicated trial began with jury selection on April 12. It is expected to last at least another week.
https://guardianhomeconsultants.com/wp-content/uploads/2016/07/sampson-pic_1462399775743_2102410_ver1.0.jpg
210
374
giftedowl
https://guardianhomeconsultants.com/wp-content/uploads/2020/06/guardian-logo-e1592961674470-300x236.png
giftedowl
2016-07-21 15:59:56
2016-07-21 16:00:27
Drug Court judge testifies in condo defect lawsuit